Green Gables Cali Luna 4*P

5th generation - American


Sire: VMCH Green Gables SS MoonBeam *B (4th gen)
ss: +B Echo Hill's Shining Star (4th gen)
sd: Green Gables USG Trillium 2*P (3rd gen)
Dam: VMCH Green Gables EHJ Sapphire 3*P (4th gen.)
ds: +B Echo Hill's Jasper (3rd gen)
dd: Echo Hill's Molly O'Malley 2*P (3rd gen)

View extended pedigree here

DOB: 5/24/12

Percentage: 56.25/43.75 (Nubian/Nigerian)

Height: 27" at 5 years old.

We are SO thrilled to be able to bring this girl back home! I was really hoping for a doeling out of Sapphire X Moonbeam in 2015, but she gave us twin bucks and then we lost Sapphire that summer due to a freak accident. I contacted Colleen, to whom I had sold the only doeling from a previous Sapphire X Moonbeam breeding and she was willing to sell her back to me! SO excited to bring this lovely girl back home. She is a combination of our nicest udder genetics and highest milk producers. She has lovely breed character with long, wide, pendulous ears and a roman nose.

Cali's udder is everything I hoped from this breeding. Incredible capacity, attachments, teat size and placement, the whole package. And her production is excellent as well. She peaked at 10# her second freshening giving a steady 7# the rest of the time! Cali is the new family favorite to milk as she is SO easy to milk it only takes seconds to milk her even when she is giving more than most of the others. We retained 2 of her 2016 kids - Eclipse (doeling) and Remmy (buckling). We also retained one of her 2017 quads, Maggie.

Calli's 2nd freshening udder

Dam and Maternal Granddam

Virtual Show Record

2017 - BEST UDDER IN SHOW & BEST UDDER OF BREED & 1st place 5yr old - Ring 1 MDGA Summer V-show

2017 - BEST UDDER IN SHOW & BEST UDDER OF BREED & 1st place 5yr old - Ring 2 MDGA Summer V-show

MDGA Milk Records:

Year

Age at

Freshening

(yr-mo)

Days in

Test

Total

Milk

in test

Ave

Butterfat%

Total

Butterfat

in test

Ave

Protein%

Total

Protein

in test

Comments
2017
4-10
305
364
1725#
1757#
5.1%
5.2%
86
92
3.6%
3.6%
61
64
Earned star in milk & BF
Extended lactation

See Cali's kids by clicking the photos below

Cali's relatives...
---
Pictures of Cali...
As a baby: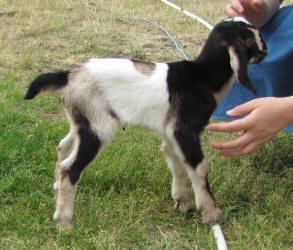 As a dry 3 year old: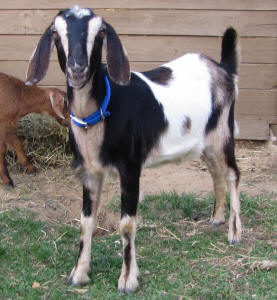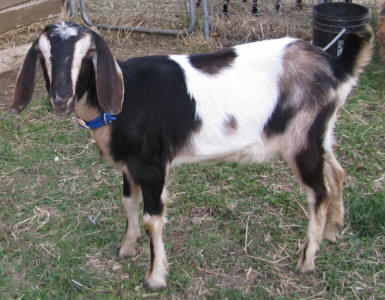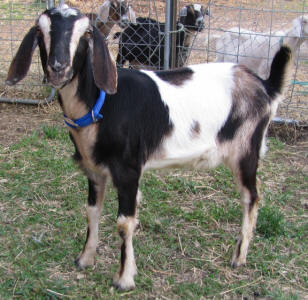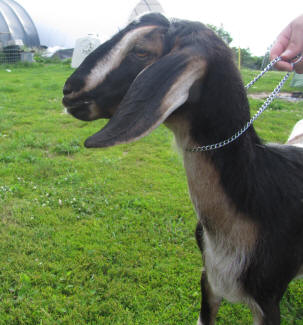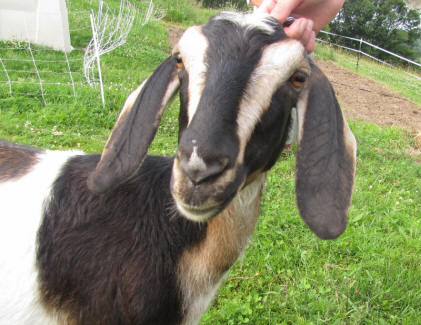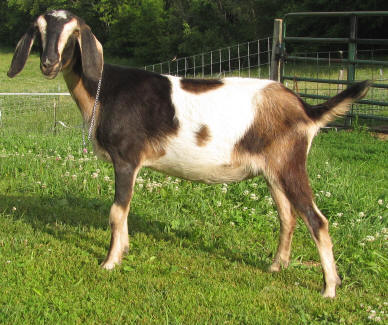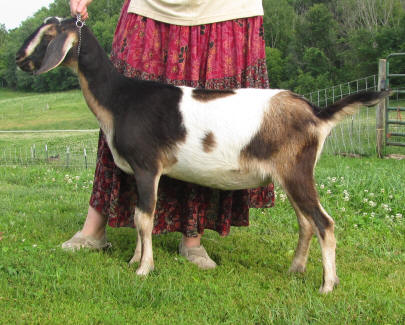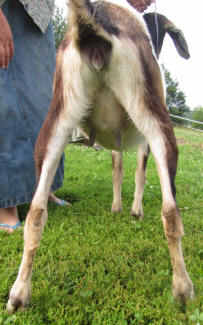 Cali had a very rough time after her first freshening at 4 years old with huge triplets (8.5#, 7.5# and 6#), but even though she's not milking to her full potential, you can see she has a lovely udder. These pictures really don't do it justice, but you can at least get a good idea.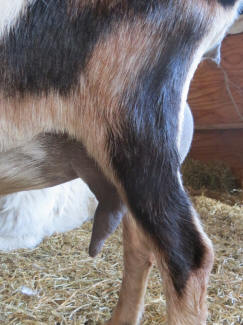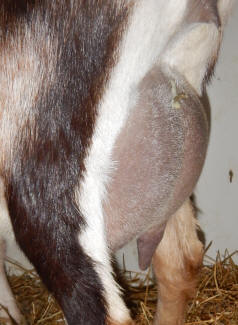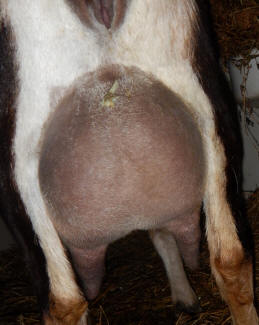 Cali's udder before kidding with QUADS. Doesn't get much better than this!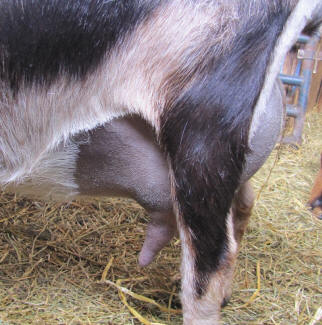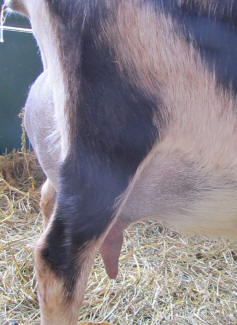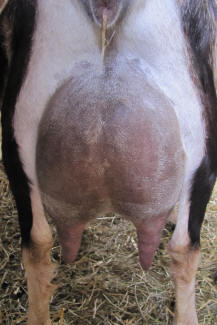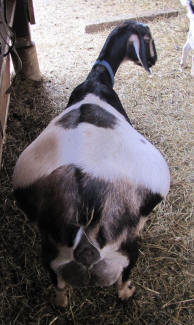 Cali after kidding quads. I love her udder. It is extremely easy to milk, well attached and VERY capacious (she gives a gallon a day regularly)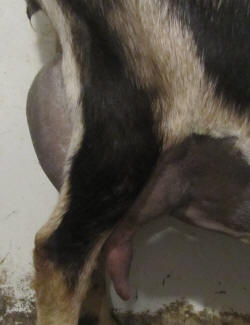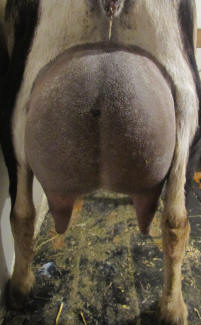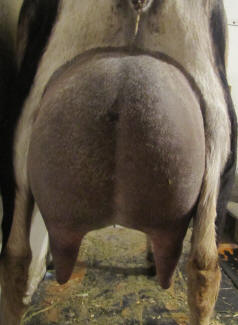 Cali's Summer 2017 V-Show pictures at 5 years old (2nd freshening)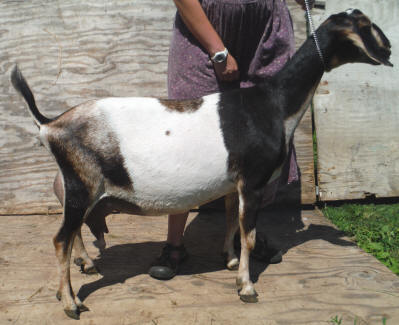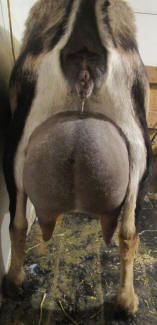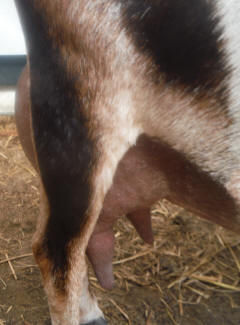 More pictures from 2017. She is SO lovely in person and we just could NOT capture it on camera at all. So, here are a bunch of pictures that each catch a little of it, but all her beauty in one picture.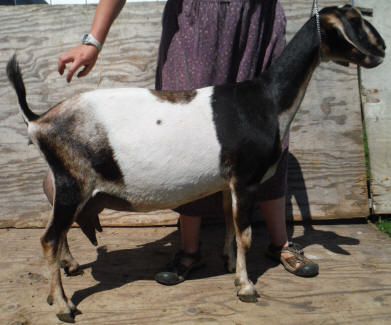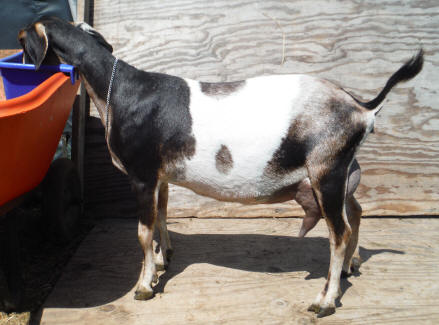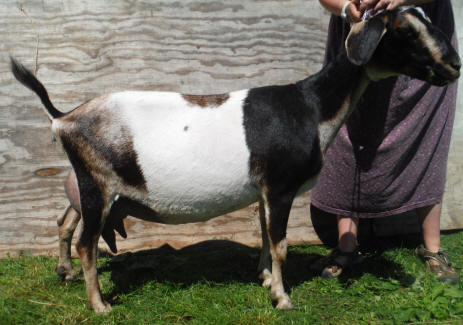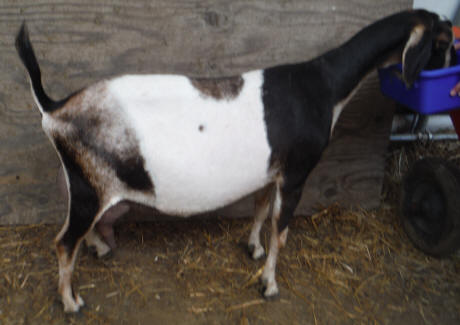 Mini Nubian Dairy Goats Wisconsin