Livestock Guardian Dogs (LGD) - A MUST have for those with predator issues!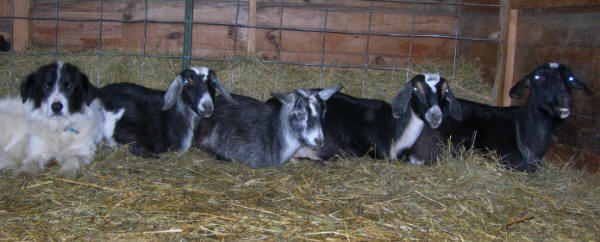 With coyote, bear, wolf, and cougar populations on the rise, these wonderful guardians of our herd have become more and more important to us. Dixie and Caesar have kept our goats (and chickens) safe even when neighbors (who have dogs, but not LDG's) have lost their animals to predators. In the spring of 2010, we watched Dixie and Caesar (then only 6 months old) chase a wolf off who had been bold enough to come right up the the pasture fence-line about 100 feet from the house.
We have chosen two similar breeds to guard our livestock - the Great Pyrenees, originating in France, and the Maremma, originally from Italy. Both breeds have been developed for centuries to care for and watch over their livestock. They have a similar method of guarding where they bark to warn the predators to stay away rather than wait for an attack and then defeat their opponent. The barking can be an issue if you have close neighbors who dislike dogs. Thankfully it doesn't bother our neighbors and the ones that can hear it say that they enjoy listening to them. Both the Maremma and Pyrenees are agile and fast and can handle most predators if they do need to fight. Be sure that they do have backup though - You really need to have at least two LGDs working together (click here for a good article on this topic).
Both breeds are extremely gentle with children and are loved by all. They can be intimidating to human intruders, but the adult LGD's usually know if a person is allowed on the premises or is a threat. As long as I bring the people in, the dogs know they are all right and will be friendly to the visitors. If someone enters the pasture without me being present.... Well, let's just say the dogs know the rules even if the people don't.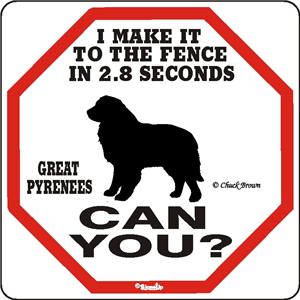 There seems to be a real lack of GOOD LGD's in the mid-west. By GOOD, I mean dogs that have been raised with the goats for generations, not as pets or show dogs. Not that those cannot make good LGD's, but they are less likely to than ones who have been bred and raised for generations as working dogs. In my search for the right LGD to add to my farm, I had to look far and wide. I did finally find Caesar in West Virginia - Thanks Amy Maher and family!
For lots of WONDERFUL information on livestock guardian dogs, be sure to check out my friend and mentor's website here.
Our faithful Livestock Guardian Dogs...
(Click the names for more info)
Caesar our male Maremma (pictured at 6 months old):
Dixie our female Great Pyrenees (with 1/4 English Shepherd) (deseased):
November 2013 pups - click pictures for information...
See the May 2012 Puppies by clicking on the picture below: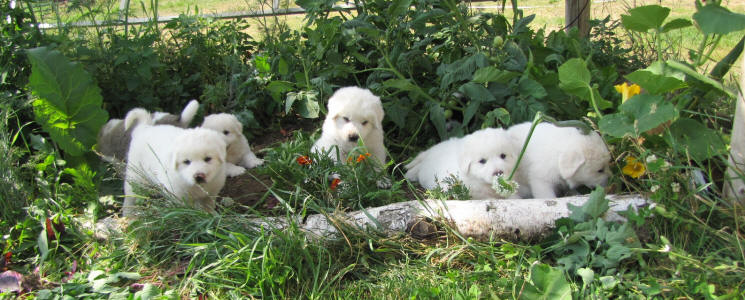 See the January 2011 Puppies by clicking on the pictures: