Dixie our female mostly Great Pyrenees (she is also 1/4 English Shepherd):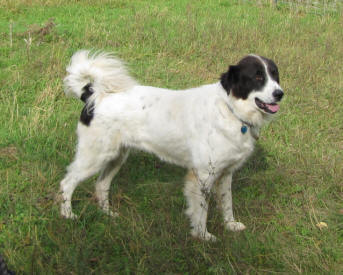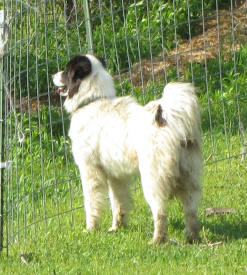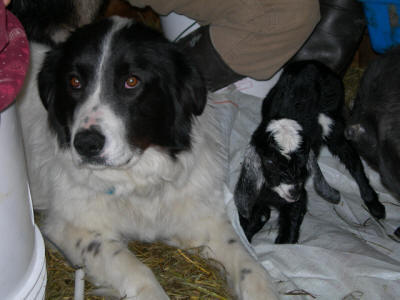 Sire: Working Great Pyrenees on an Amish farm
Dam: Working 1/2 Great Pyr / 1/2 English Shepherd
Dixie has been a wonderful LGD. She has faithfully watched her goats and taken care of newborn kids. She keeps all predators at bay and I have even seen her watching eagles and hawks to make sure they didn't try anything. She is extremely gentle with children and loves to be with them. Dixie came to us as a puppy from an Amish farm where her Great Pyr father and half Pyr/half English Shepherd mother worked.
Pictures of Dixie at work
The puppy who Really, REALLY wants to play!

(Dixie and the doeling, Grace, are best friends to this day)

Taking her new duties more seriously now...

At one year old, taking great care of the newborn kids...

And caring for the momma goat...

Dixie loves to be with 'her' goats!

Dixie and Caesar sounding the alarm

Dixie putting on wings to defend her goats (from one of those horribly dangerous dump trucks lol)

Sitting on a high spot watching her goats

"Oh PLEASE, can we help in the kidding pen?! We promise to be good!"

How can you resist THIS look?!?!!!

Dixie loves her people too!

Dixie in the middle of shedding her winter coat:

Pictures of Dixie as a puppy...
Great Pyrenees and Italian Maremma Livestock Guardian Dogs in Wisconsin