| | | |
| --- | --- | --- |
| (Purebred Working Italian Maremma Sheepdog) | and | (Working 75%Great Pyrenees/25%English Shepherd) |
are happy to announce the arrival of their
8 puppies (4 boys, 4 girls)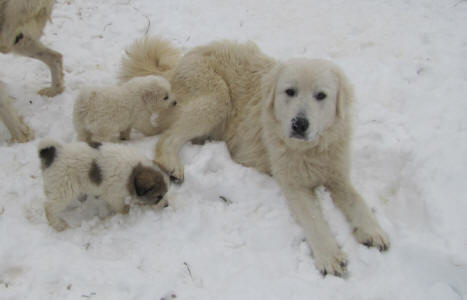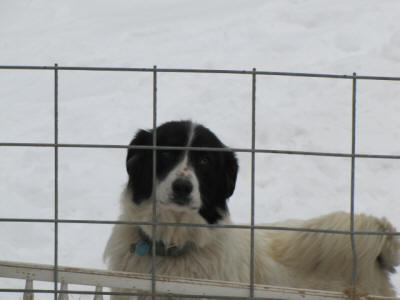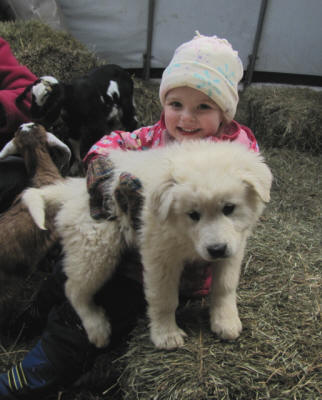 Born January 21st, 2011
(which just so happened to be one of the coldest nights of the year with a 40 degree below zero wind-chill!!!)
Please email us if you would be interested if we have another litter of livestock guardian puppies.
All puppies will be introduced to and raised with goats, chickens, horses and cats.
We are raising the puppies with the Natural Rearing methods as laid out by Juliette de Bairicelli Levy (wonderful herbalist and author of many books including The Herbal Handbook for Farm and Stable). Puppies are fed a raw, natural diet. Their dam is also fed on this diet. Purchasers of pups can feed whatever feed they choose, of course, but we will provide complete info on their current diet so you can continue it if you would like. These puppies are extremely healthy and strong.
April, 2012 - These pups turned out so well we are repeating the breeding for June 2012 pups. Click here for more info.
---
All pups were sold besides the two that we retained. Nikao and the white puppy that we couldn't agree on a name for! After thinking about it a LOT, we finally decided that we should really only keep one (that way we could keep puppy from the next litter...). Then came the HARD decision! Which pup could we let go?!?!?! We finally decided to keep Nikao and sold the white one that looks EXACTLY like his sire Caesar.
These boys have matured to be JUST what we had hoped - BEAUTIFUL, gentle, great with the animals, very protective, but good with people. Their parents have trained them well.
Nikao: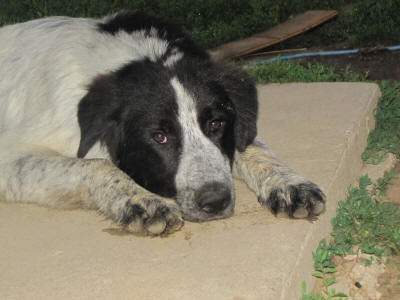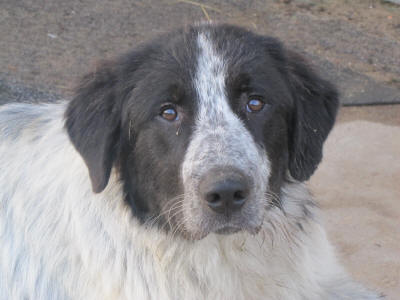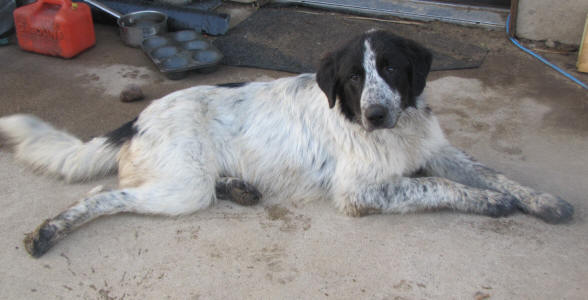 Pups playing: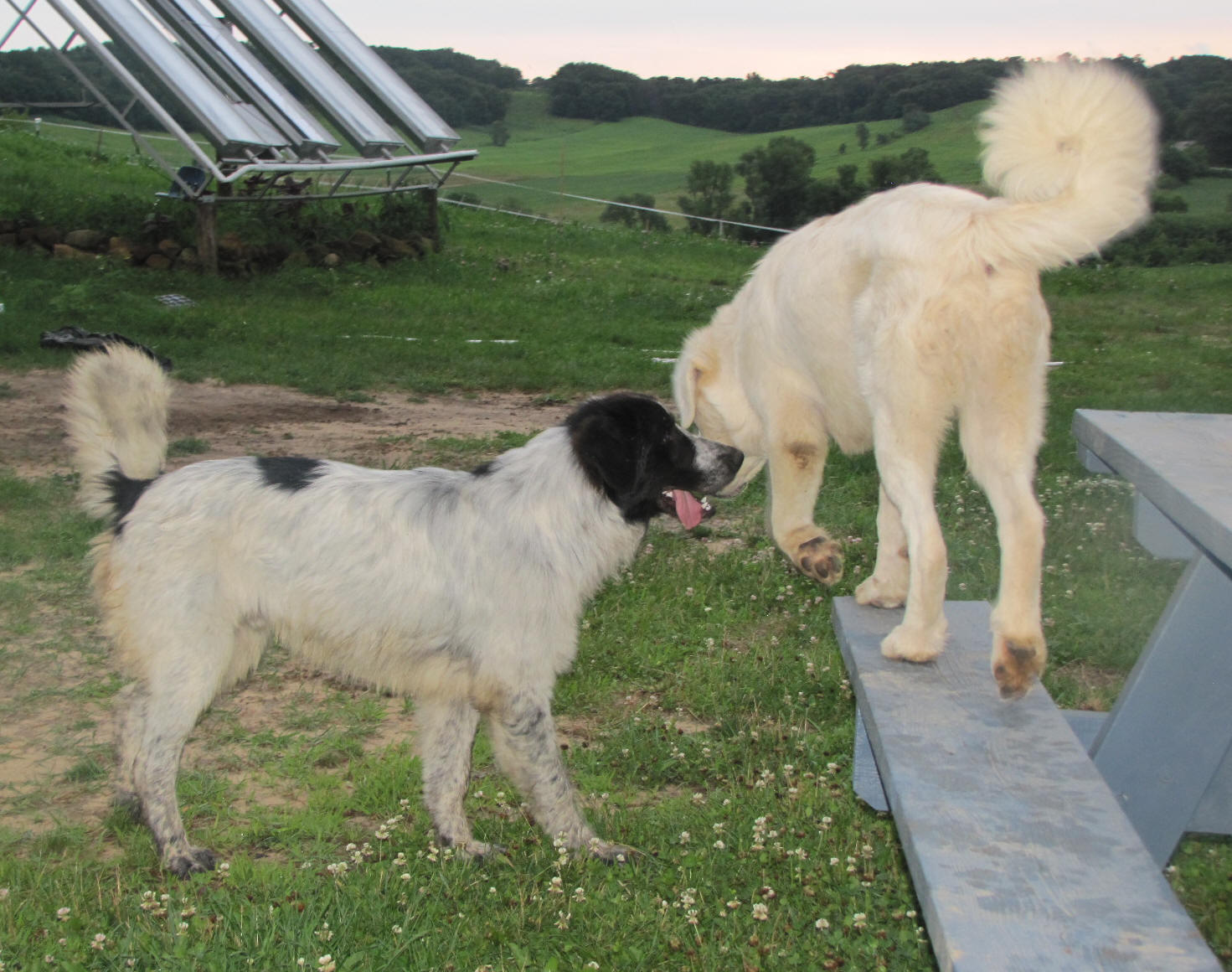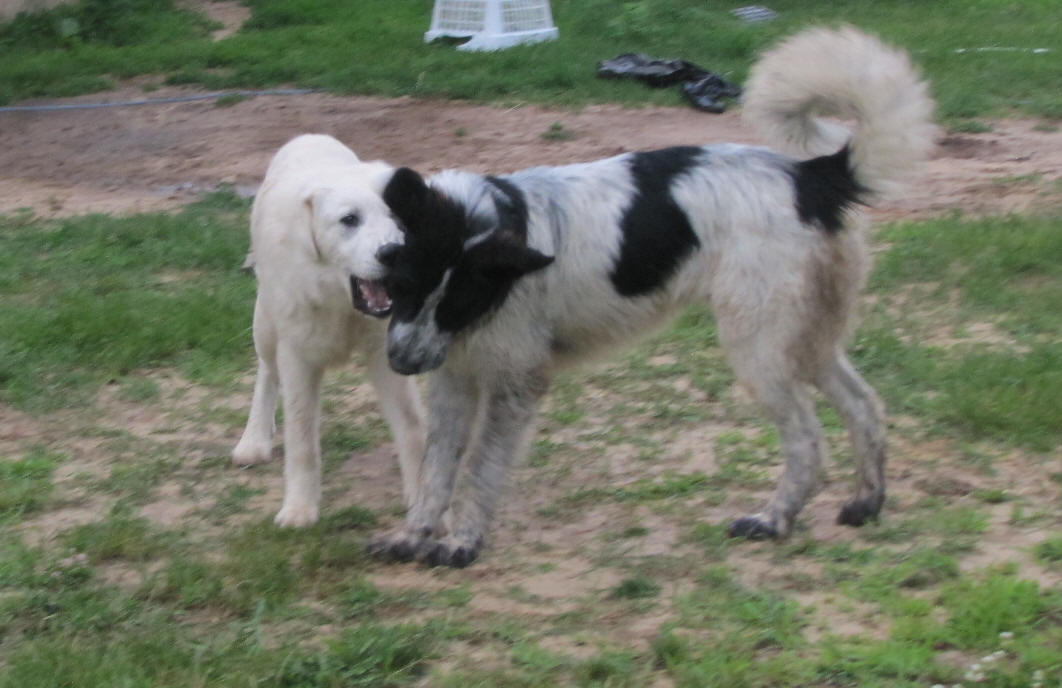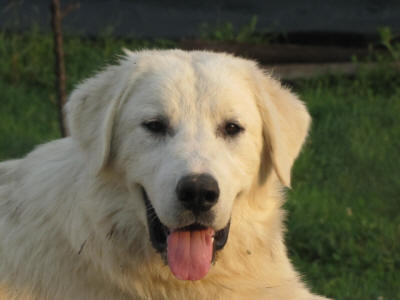 (he loves to guard from the vantage point of the picnic table)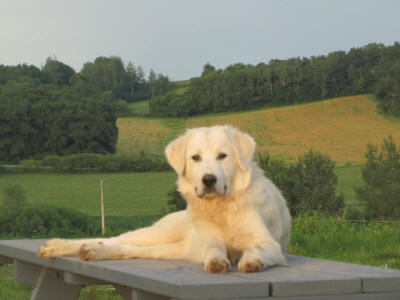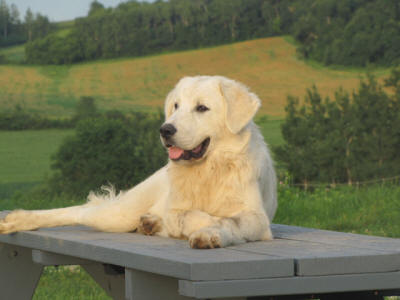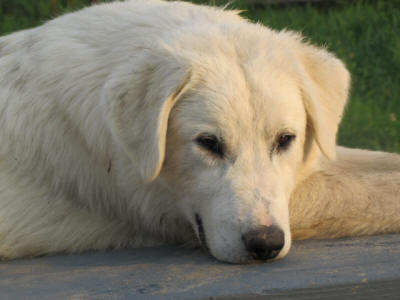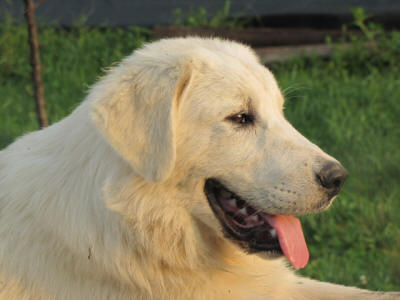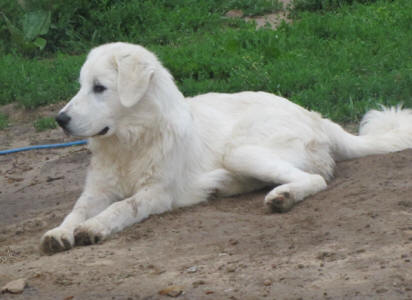 ---
Nikao with his goats: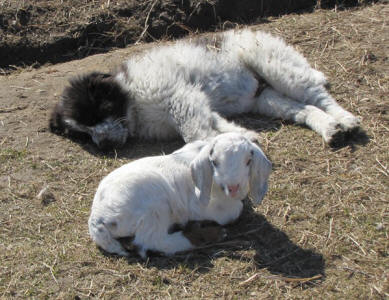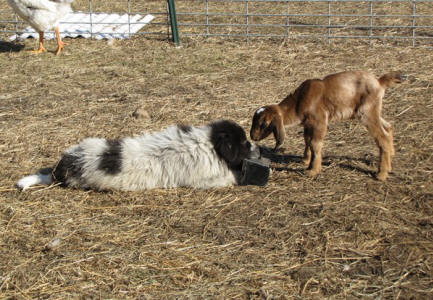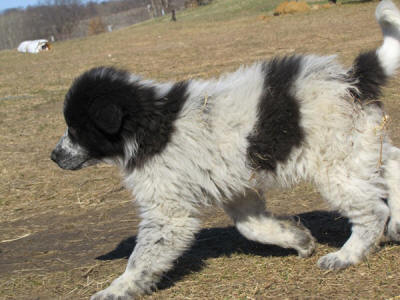 Pups at 11 weeks old: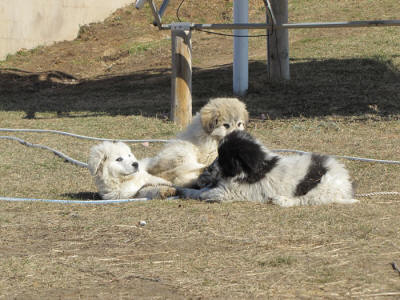 Retained pup (now for sale) (left) and Susie (right) with their goat kids: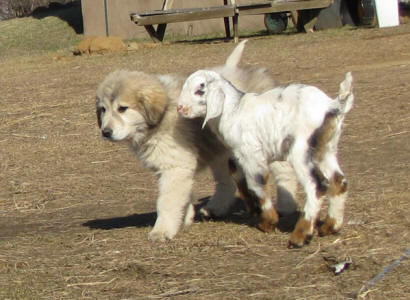 Female pup (#2):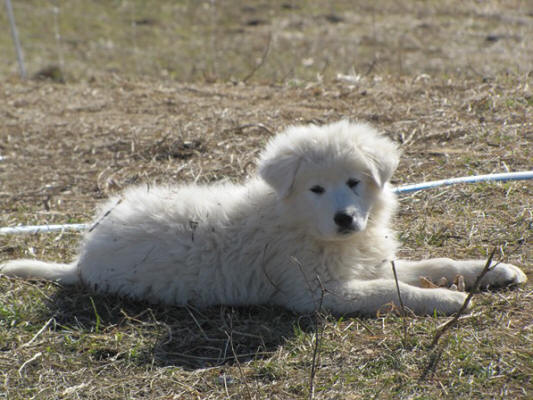 Fluffy (#8 female) with a kid: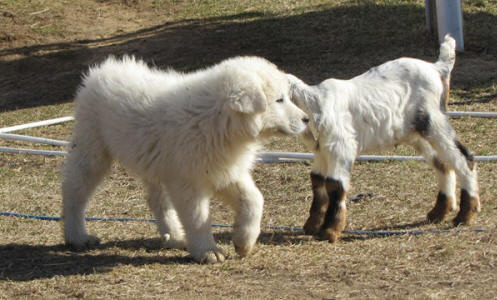 ---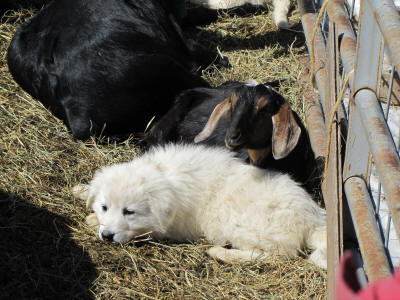 Updated puppy pictures! (3-28-11)
Puppies are now 8 weeks old and ready to head out to their new homes. Email for more info on purchasing a pup.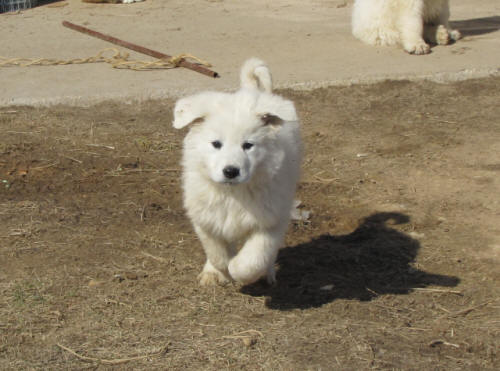 Two of the girls (#1 and #2, not sure from pictures which is which!):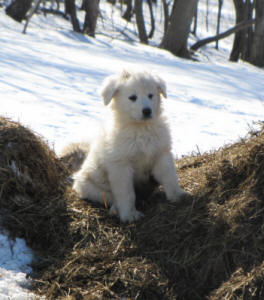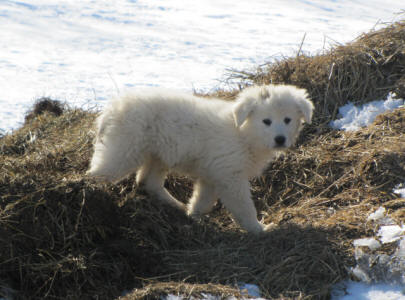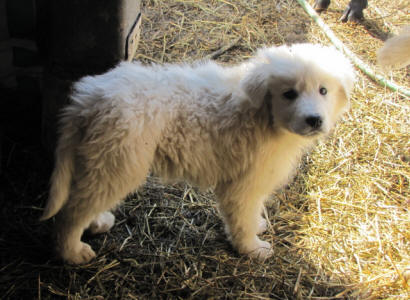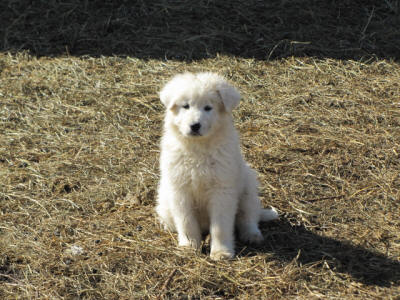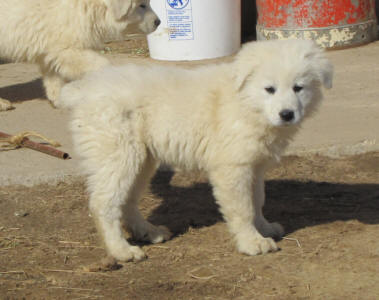 One of the above girls guarding from the top of the dunghill:
Girl #1: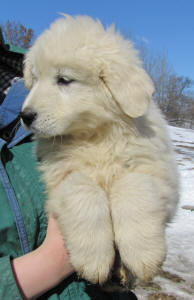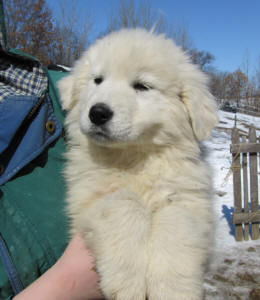 Caesar taking a rest from training his puppies. Pups are hard work!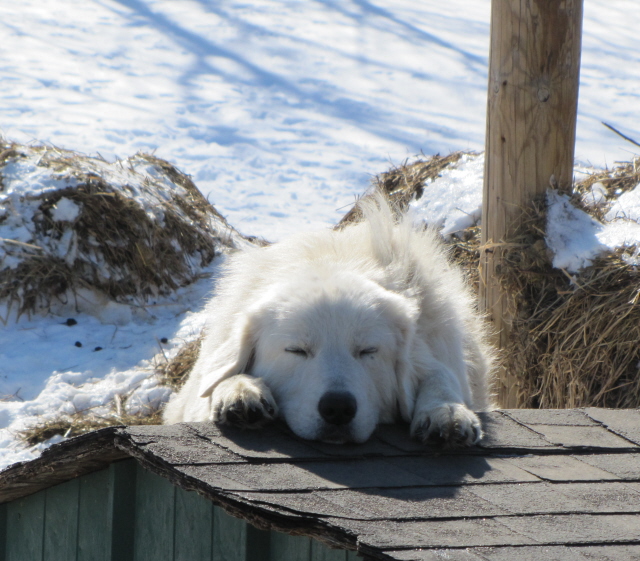 Rey (meaning King), aka the 'little boy':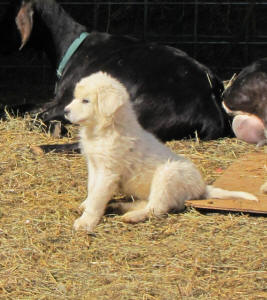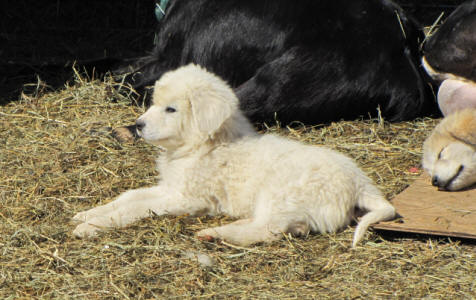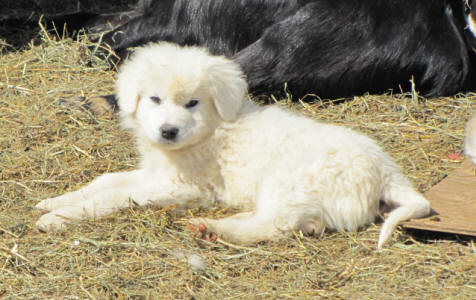 Girl #8. No name yet: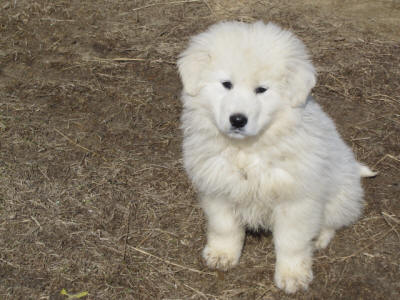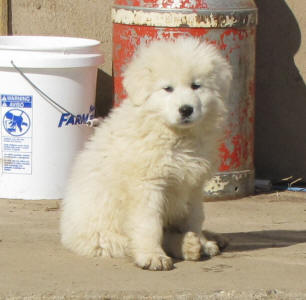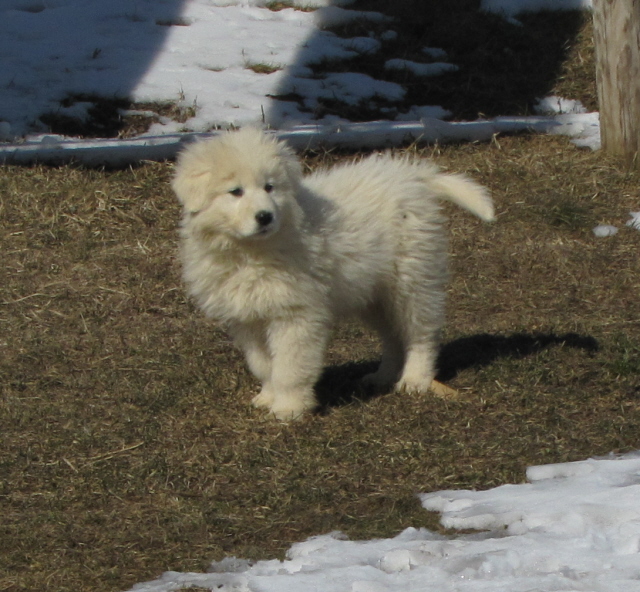 Susie napping with the goats: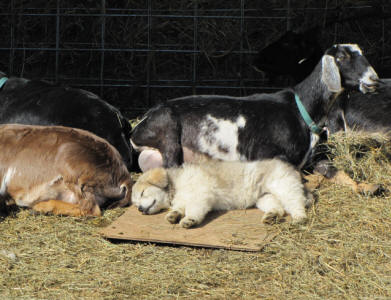 Pups with kids: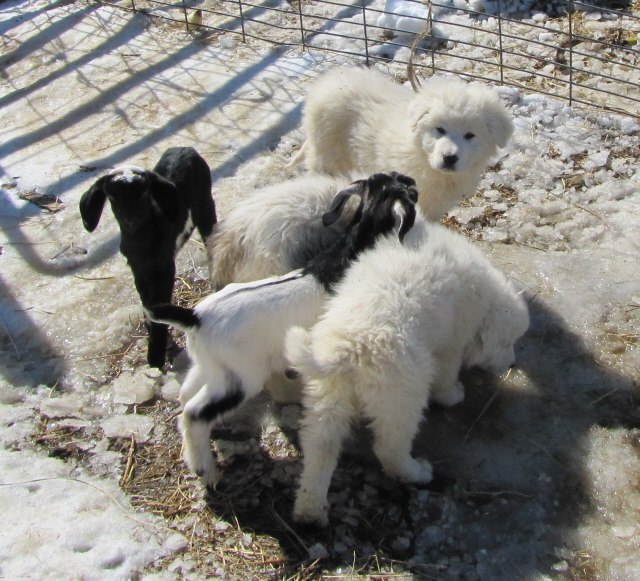 Puppies Playing: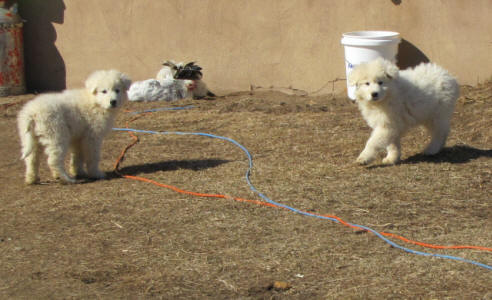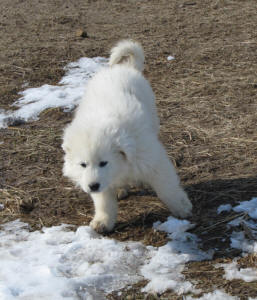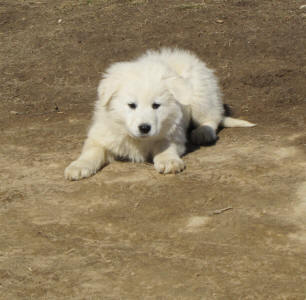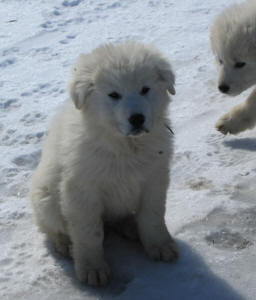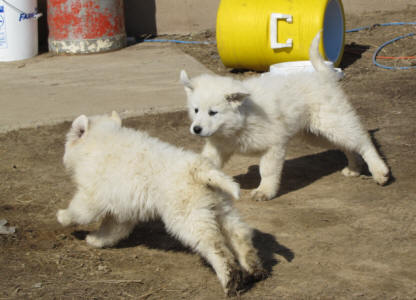 "No, really, we're trying to help you water the goats, not eat the hose!"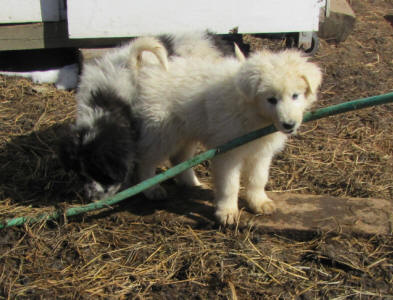 Retained male (now for sale):
---
These LGD's LOVE cold weather. When the wind is howling, the snow and sleet beating down, they have a BLAST. Below are some pictures and videos of the pups and their parents playing in the storm we had on March 23rd.
(puppies are 8 weeks old)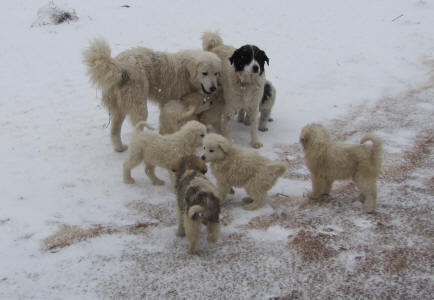 ---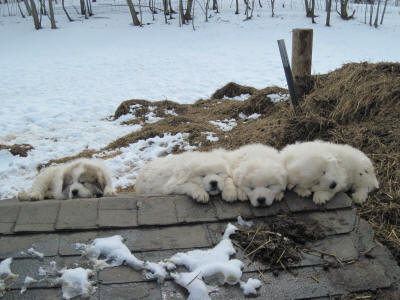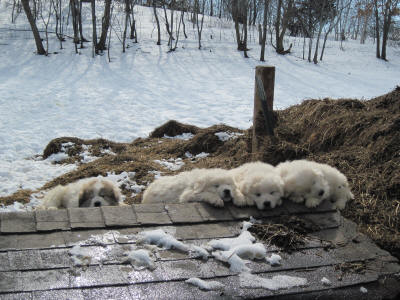 ---
Caesar playing with two of his babies (more pictures on Caesar's page):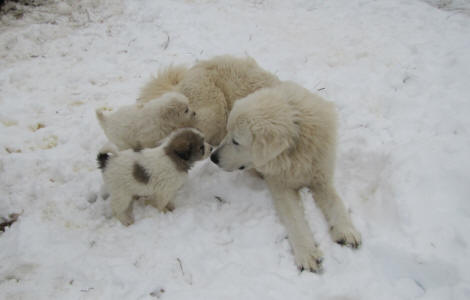 All white female - #1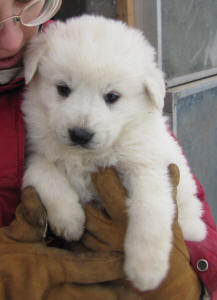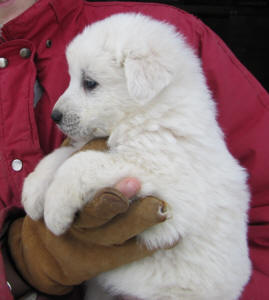 All white female - #2: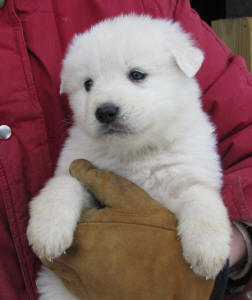 Brown boy - #3: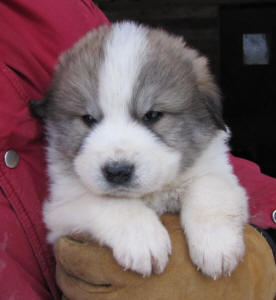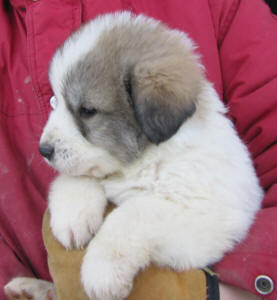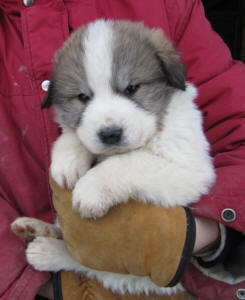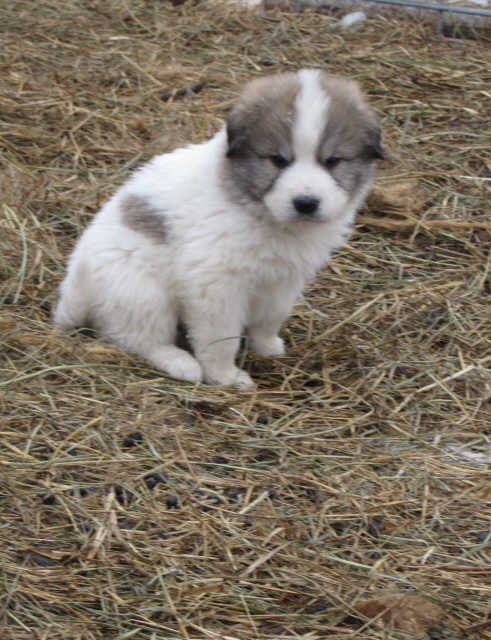 The 'little white boy' (who's not so little any more!) - #5: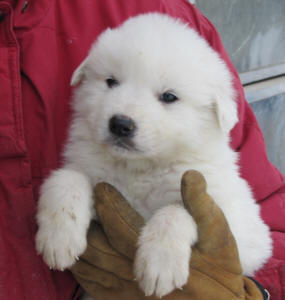 Huper Nikao - #6:
(means 'more than conquerors' in Greek - pronounced like 'Super', but with an 'H', and Nick-A-O)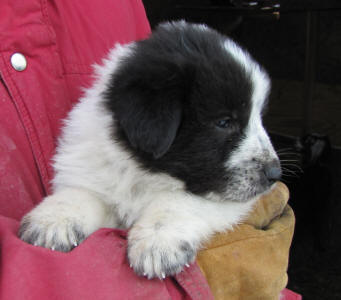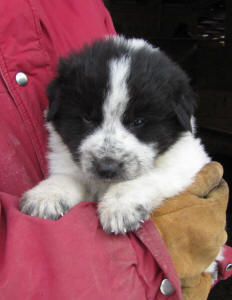 Susie - Brown marked female - #7: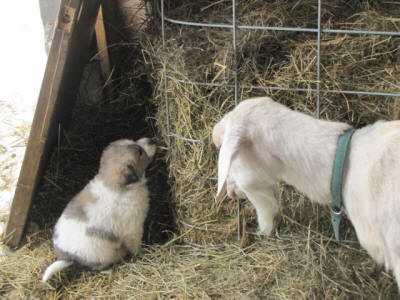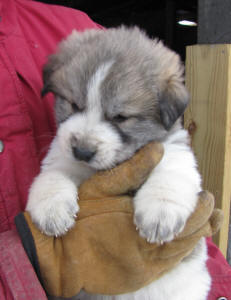 All white female - #8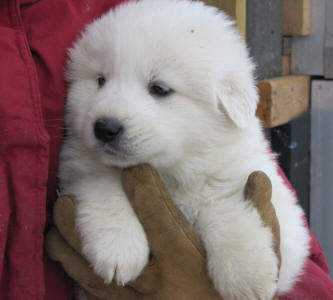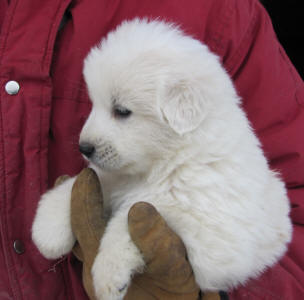 Sleeping Babies: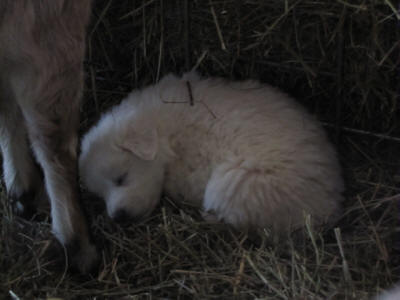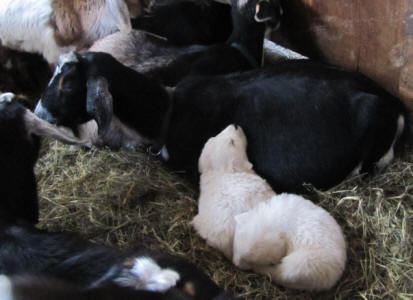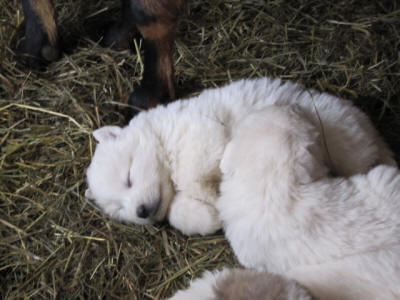 Pups with goats: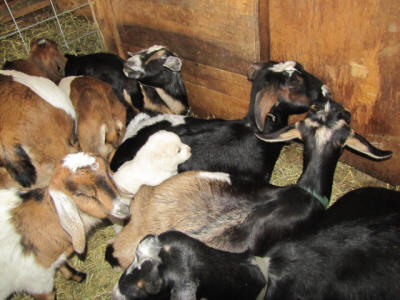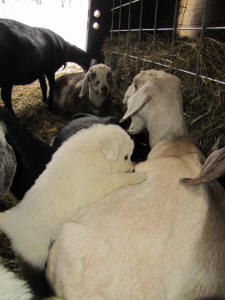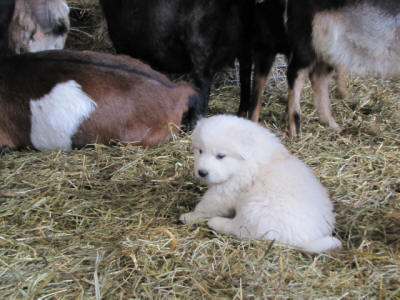 Puppy Play: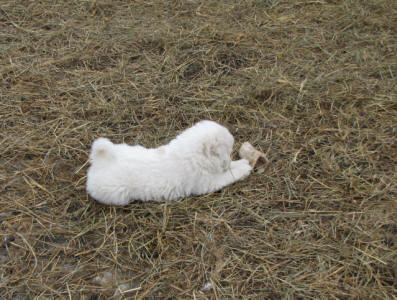 "Thanks for looking and can't we sing well?!"
(they were actually playing/wrestling, but the photo makes it look like they're singing!)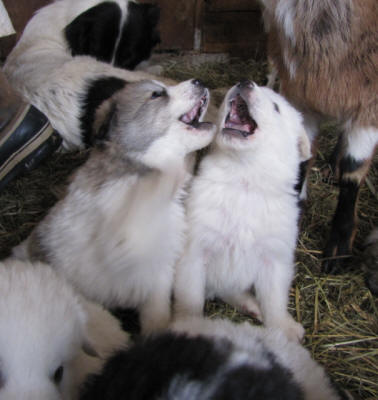 ---
Pups playing with each other and learning about chickens.
You can hear them barking and growling at each other as they play - too cute!
Pups visiting with the goats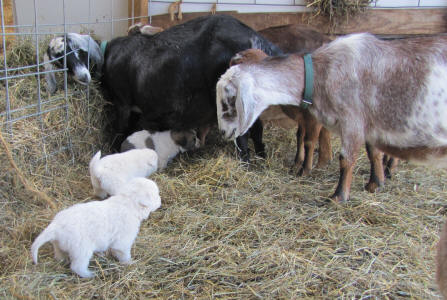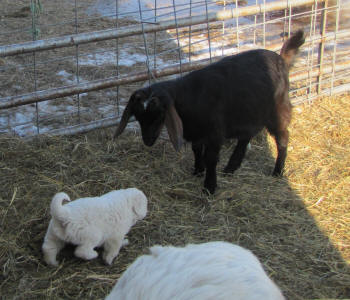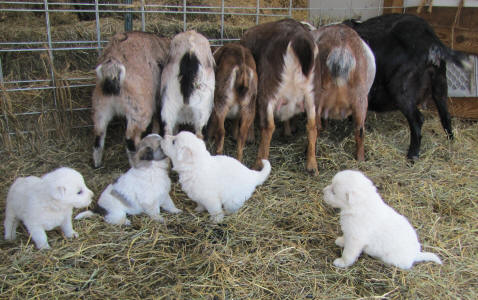 Exploring and just plain looking cute! (this pup was retained - now available!)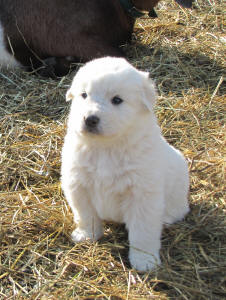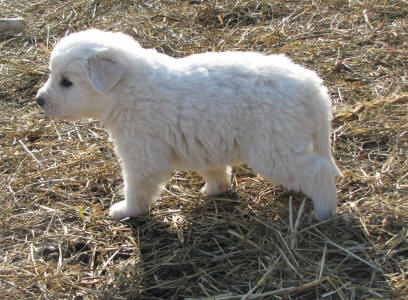 Sleeping with Nutmeg (last available pup)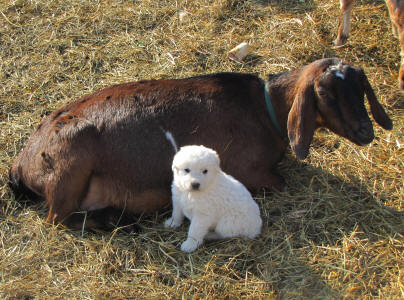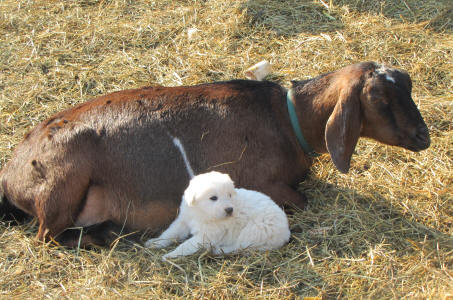 Learning about chickens...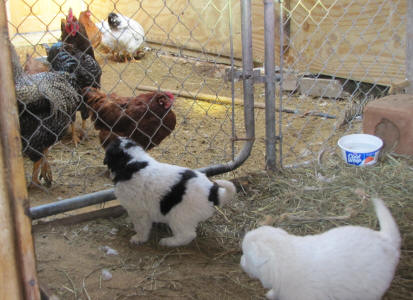 Some of the girls...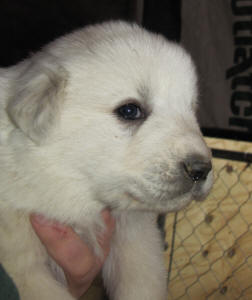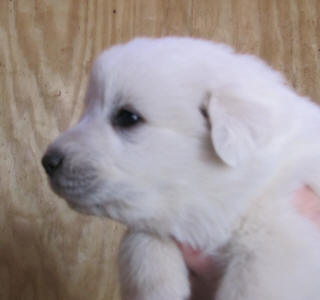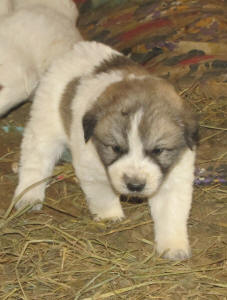 ---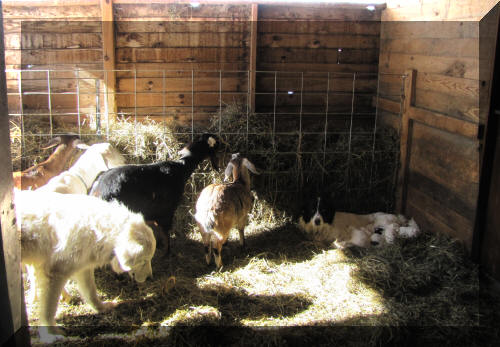 This is where the pups will be once they get bigger - for now they have a safer place to be where they can see/smell/hear the goats and chickens, but not get stepped on by the goats. For their own safety, they are only loose with the goats when they are supervised.
---
Pictures of the puppies at 3 weeks old.
I apologize that I can't say for sure which puppy is pictured for all the pictures - the solid white ones look so much alike it's hard to tell who's who without looking closely in person...
One of the white boys - not sure if he is #4 or #5

The little brown boy (#3)

The above pictures are the last you will see of them in the house! They now live outside (but not loose with the goats unsupervised)...
Learning to be an Livestock Guardian Dog...

Notice how relaxed Grace (goat) is with the puppy. The above is one of the female pups - #8.

Marked female (#7) - she crawled under the goats who were eating from the manger. No, she didn't get stepped on, we were watching.

The black marked male pup, Nikao (#6)

I think this is #4:

One of the female pups - #2:

Small white male (#5)

Gettin' better at walking! (one of the all white female pups)

More pups...

Until next time... See Ya!
---
A few of the puppies at about 11 days old:
Badger marked boy (pup #3)
Also see YouTube Video of him above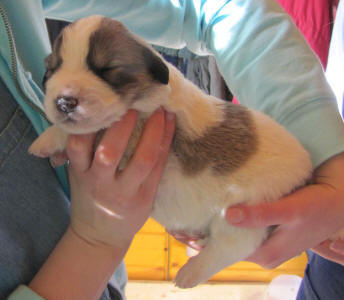 Big white boy (last available) (pup#4)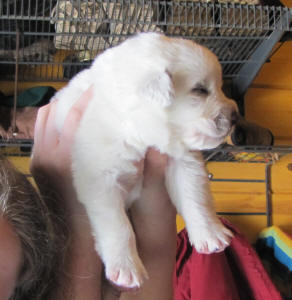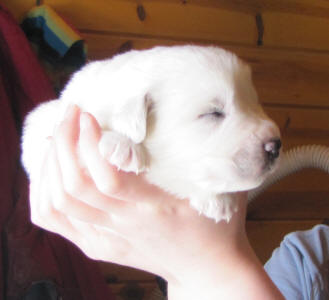 Little white boy (pup #5)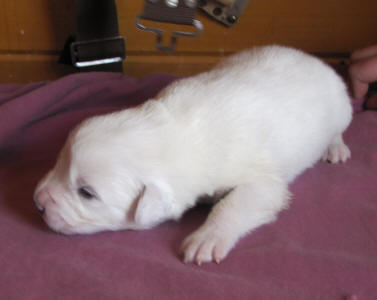 Black marked boy (pup #6)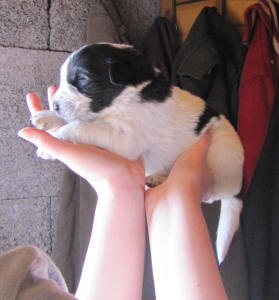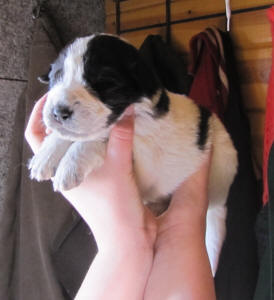 Badger marked girl (pup #7)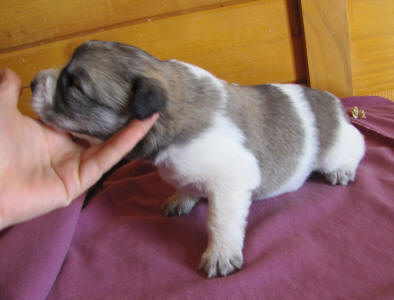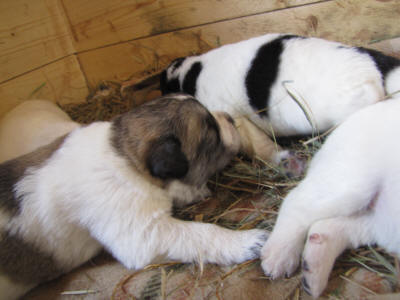 One of the white girls: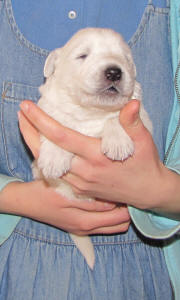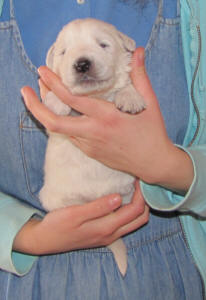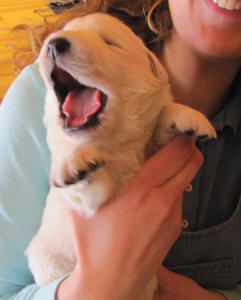 Another of the white girls:
One of the white girls sleeping on mom: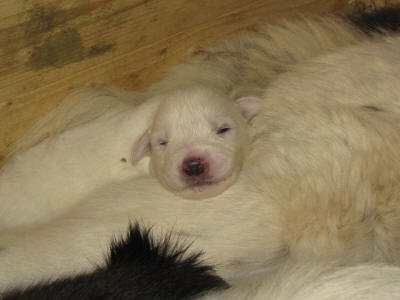 The up-side-down milk bar: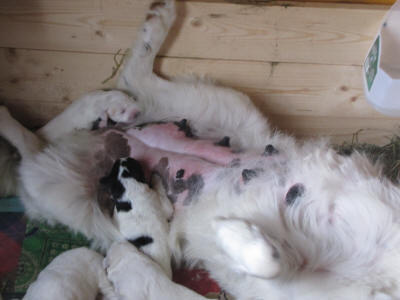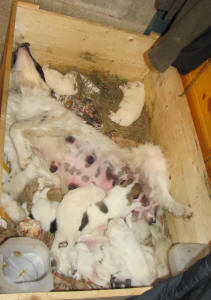 ---
Below are some photos from the puppies first day (Thursday night through Friday...)
Dixie in the whelping box
(we wanted her to whelp in the goat barn, but at 20+ below zero, the pups would have frozen before they could have gotten dried off!)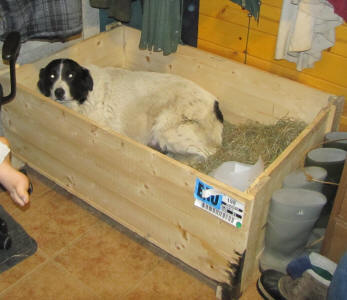 Two of the white female pups at just a few hours old: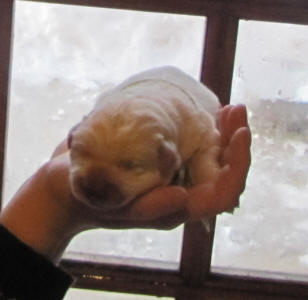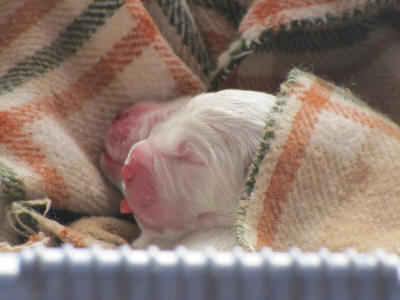 Two of the white female pups mirror imaged!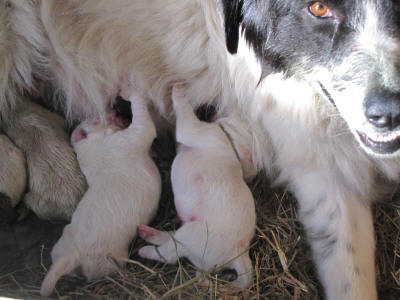 Dixie with her pups. She was ready for a nap while they stuffed themselves.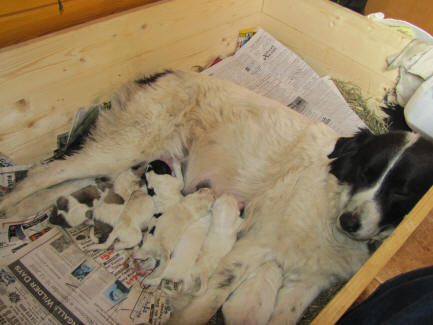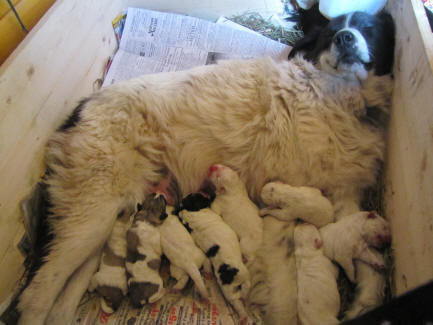 Dixie and the pups.