Green Gables CH Misty *P

2nd generation 2 V-CH 'legs'

Sire: Heart's Delight Hershey (2nd gen.)
ss: Heart's Delight Ranger
sd: Heart's Delight Mercy
Dam: Green Gables Cloudy Night (1st gen.)
ds: Green Gables Morgan
dd: The Sim's Muffin

Click here for Misty's extended pedigree

DOB: 3/14/03

Percentage: 50/50 (Nubian/Nigerian)

Height: 25" (at 7 yrs)

MISTY is one of my favorite does, she is so friendly and loving that she is just irresistible. Not to mention that her coloring and conformation make her gorgeous! Misty's ears are only 2/3rd's drop, but she makes up for her lack in breed character with all her other strengths. Her dam had a huge udder and gave tons of milk - she peaked at 10# as a 3 year old! Misty has a nice udder with tons of capacity and easy-to-milk teats. She could use stronger lateral attachments and a smoother foreudder. She is an excellent milker giving about 6-8 lbs of very rich milk per day and is a sweetheart on the milk stand. Misty has the richest milk in our herd with very high butterfat - an average of 6.63% in 2009 with the highest test coming back at 10.57%!!! Misty is now in retirement enjoying a well deserved rest from kidding and milking.

Misty's personality is so funny. She has a good deal of control over her ears which makes her QUITE expressive. She LOVES people and also enjoys taking care of kids - she helps with every birth here on the farm. She'll even 'steal' another doe's kids if they let her.

At MDGA's '08 virtual goat show, here is what the judge said about her when choosing Misty as Best Doe in Show: "For the best in show Mini dairy goat milker, my selection was based on the doe I felt was the total package. The doe who best exemplifies what a dairy goat is supposed to look like and what they are bred to do. If you look at the Grands in each breed you will see one who has the triangle wedginess we talk about from the sharp withers down the back to rump from the top view. She has the wedginess from the side view from the front end to increasing depth to the rear barrel. She has the most mammary capacity [milk] She has the age and number of lactations to make her worth invaluable and she has the strength and power to sustain herself and her years she has put in. Of course, I am talking about the MiniNubian:)." (see Misty's '08 pictures below)

Virtual Show Record

2009 - 2nd place aged doe (right behind Rosebud who was RsCH) - Ring 1 MDGA Summer V-Show

2009 - Grand Champion MiniNubian doe & BEST IN SHOW - Ring 2 MDGA Summer V-Show

2008 - Misty took BEST IN SHOW in the MDGA virtual show. She also took BOB, and Sr. GCH

2007 - Misty took GCH in an informal online show. Misty's granddaughter, Grace was Jr. GCH

Misty's 2nd freshening udder

MDGA Milk Records:

Year

Age at

Freshening

(yr-mo)

Days in

Test

Total Milk

in test

Ave

BF%

Total Butterfat

in test

Ave Protein%

Total Protein

in test

Comments
2012
9-02
189
652#
-
-
-
-
BARN RECORDS
2012
9-02
One day test
4.4#
5.94%
-
3.59%
-
57 total points
2011
8-03
227
535.9
7.58%
40.62
4.83%
25.86
Kidded late
2010
6-11
262
768.0
6.28%
45.36
4.48%
30.67
2009
5-11
256
986.3
6.63%
69.05
4.14%
41.13
Earned Milk Star!

Click the pictures to see Misty's kids

Misty's parents...
A pictorial walk through the life of Misty...
Just born: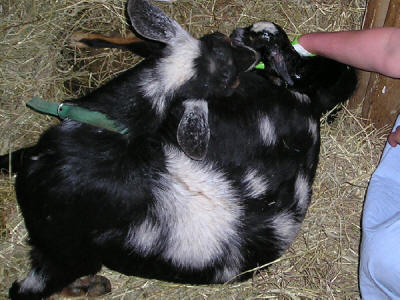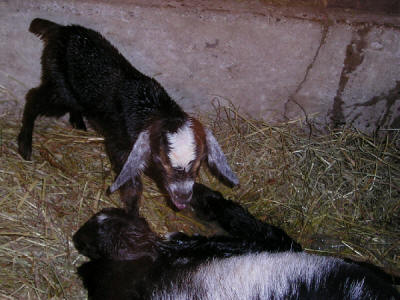 Misty as a baby: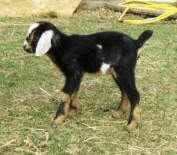 Misty as a dry yearling:
Misty as a 3 year old 2nd freshener: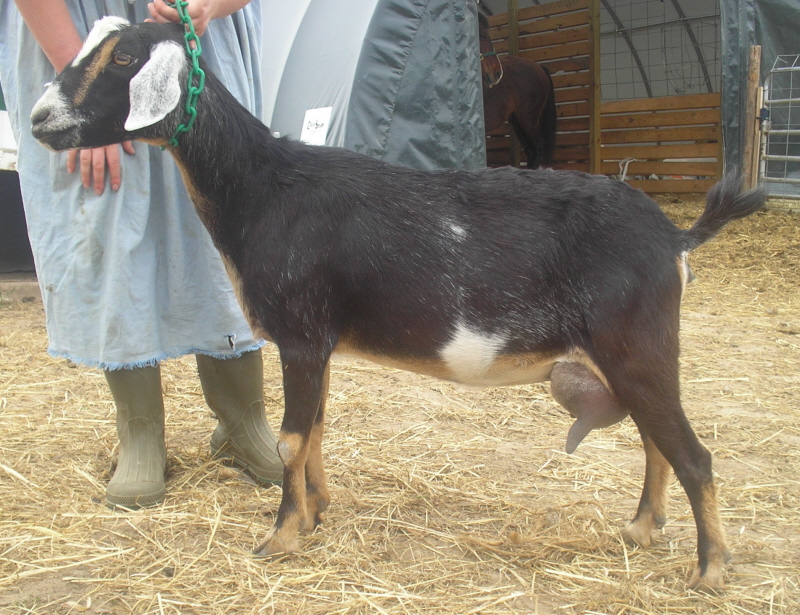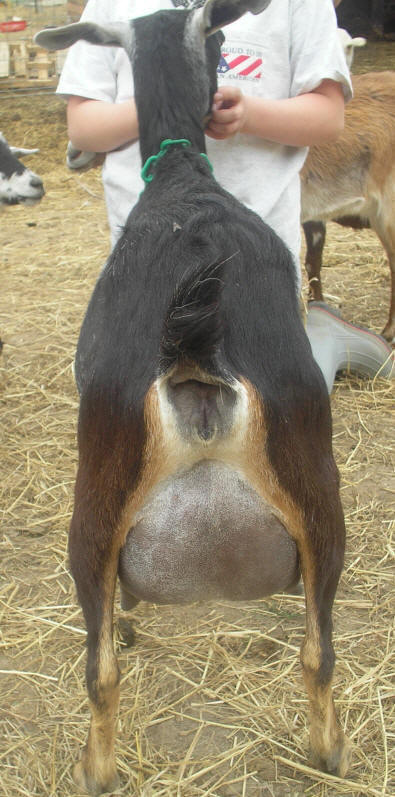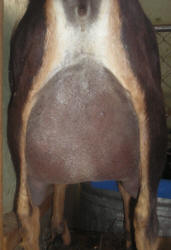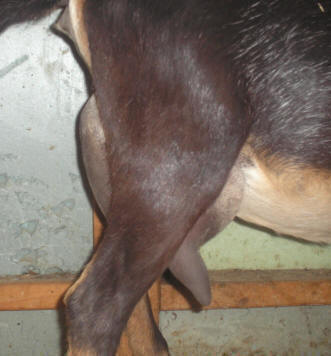 Misty's face: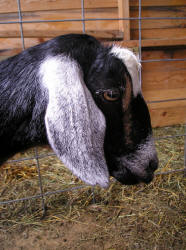 Misty at 5 years old. These are her '08 v-show pictures.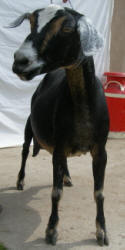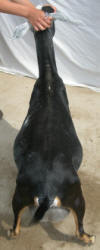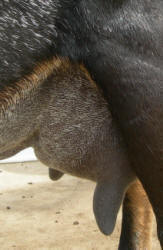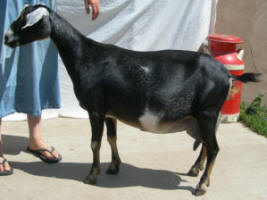 Misty at 6 years old. These are her summer '09 v-show pictures: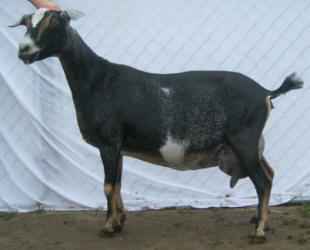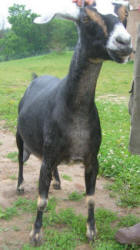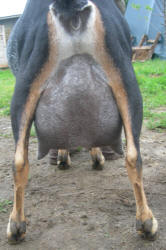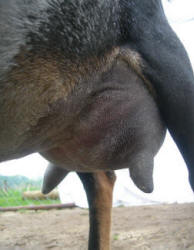 Pictures showing Misty's smoothness of blending (2009):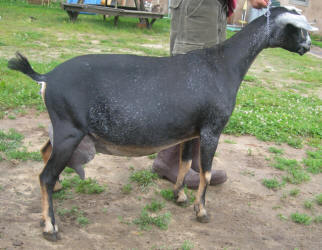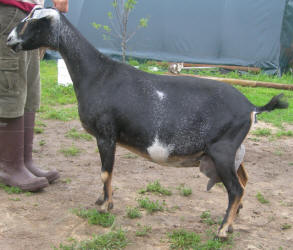 Fall '09 v-show pictures 7 months fresh, unclipped, in heat and no helper to set her up...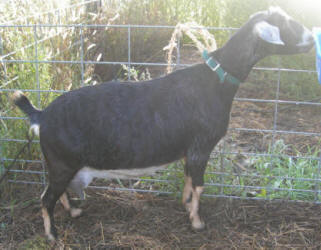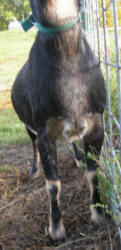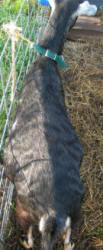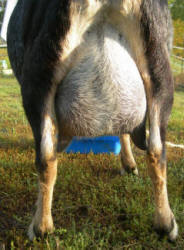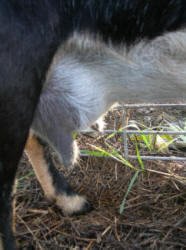 Queen of the herd, Misty is looking see if the alarm the dogs are sounding is something she needs to respond to: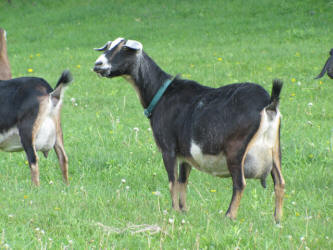 Previous | Next