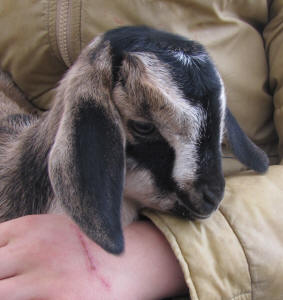 Green Gables MB Silver Moon Shadow

2nd generation - Experimental

Sire: VMCH Green Gables SS MoonBeam *B (4th gen)
ss: +B Echo Hill's Shining Star
sd: Green Gables USG Trillium 2*P
Dam: Silver Creek CM Coconut (1st gen)
ds: Oak Hollow Acres Merlin (Nigerian)
dd: Kuhtz Dream FF Coco (Nubian)

Click here for extended pedigree

DOB: 3/8/15

Percentage: 50/50 (Nubian/Nigerian)

Height: 23.25" (at 18 months - still growing)

G6S Normal by testing

One of Moonbeam's last babies, I have high hopes for this girl. Her dam, Coconut brings some lovely new lines to our MiniNubian herd. There are high quality udders and MILK on both sides of Shadow's pedigree. She herself is a beautiful little doe with a smooth, level topline, good feet and legs and a super sweet face. Her breed character is pretty good for a 2nd gen 50/50 with mostly pendulous, wide ears that reach the end of her nose. She freshened as a yearling with an udder that is VERY capacious for her small size. Very nice medial and well placed teats. Her teats are on the small side still, but they will likely stretch a little as she matures. Shadow is staying very small at only 23 1/4" tall at 18 months old. Of course she is still growing, but much smaller than her herdmates of the same age.

Shadow's ff udder (see more below

Virtual Show Record

2015 - RESERVE CHAMPION and 1st place Intermediate doeling (class of 7) - Ring 2 MDGA Summer V-show

2015 - 2nd place Intermediate doeling (class of 7) - Ring 1 MDGA Summer V-show

Coconut's udder

Shadow's relatives...
Mini Nubian Dairy Goats Wisconsin