Green Gables MB Moonlit Shadow

2nd generation - Experimental

Sire: Green Gables SS MoonBeam *B (4th gen)
ss: +B Echo Hill's Shining Star (4th gen)
sd: Green Gables USG Trillium 2*P (3rd gen)
Dam: Careys White Cloud 1*P (1st gen.)
ds: Carey's I Wanna Be A Millionaire (N)
dd: Buttin' Heads Mont Olive (ND)

View extended pedigree here

DOB: 3/12/11

Height: 25" (at nearly 2 years old)

Shadow is a half sister to Nutmeg and promises to be just as nice. These pictures really do not do her justice. We had to part with her dam, 'Arthur' in 2011 which was really hard, but being able to keep this lovely doeling from her made it a little bit easier. Arthur is an excellent milker with tons of capacity. Shadow's sire is also from a great line of milkers. Shadow has lovely conformation with wide chest, strong feet and legs, and lots of body capacity. She also has very nice breed character. Shadow freshened with a lovely little udder. It is very well shaped and has EXCELLENT attachments. Her teats are very easy to milk for a yearling ff and she is giving a lot for her size and age. See bottom of page for pictures of her udder at just a few days fresh.

Dam's Udder

Virtual Show Record

2011 - 7th place intermediate kid (in a class of 10) - Ring 2 MDGA Summer V-Show

2011 - 9th place intermediate kid (in a class of 10) - Ring 1 MDGA Summer V-Show

Moonbeam, Shadow's sire

MDGA Milk Records:

Year

Age at

Freshening

(yr-mo)

Days in

Test

Total

Milk

in test

Ave

Butterfat%

Total

Butterfat

in test

Ave

Protein%

Total

Protein

in test

Comments
2012
1-01 (ff)
220
530#
-
-
-
-
BARN RECORDS
2012
1-01 (ff)
One day test
3#
4.73%
-
2.97%
-
36 total points

Click on the pictures below to see Shadow's kids

Shadow's relatives...
---
Pictures of Shadow...
As a baby: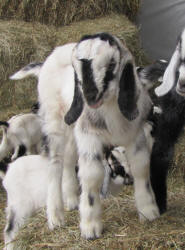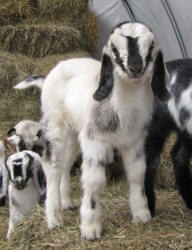 Summer 2011 V-show pictures (I could not get her to look right in the side photos, she is really more smoothly blended and looks much nicer than she does in these side pictures):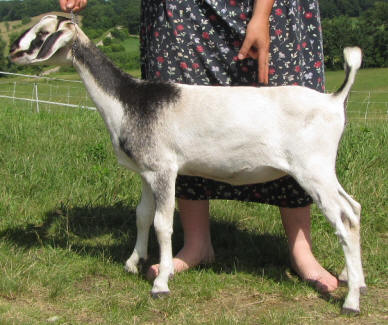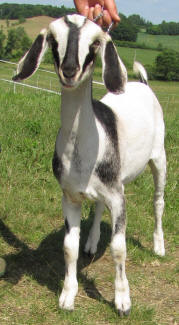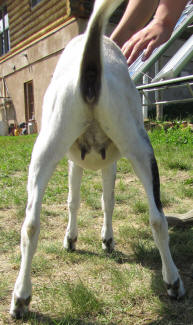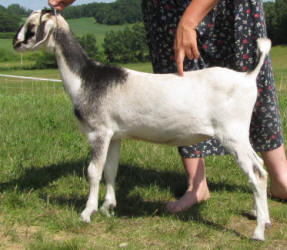 Shadow's face: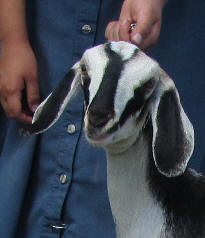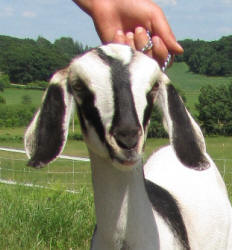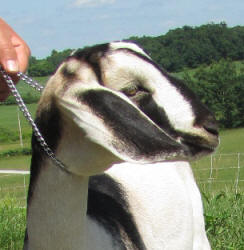 Shadow's lovely udder at only 3 days fresh - check out the attachments!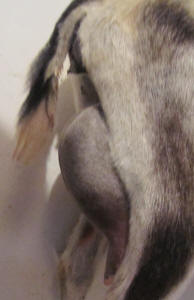 Mini Nubian Dairy Goats Wisconsin