Welcome to Green Gables MiniNubians!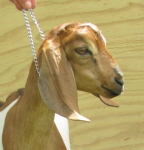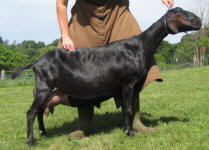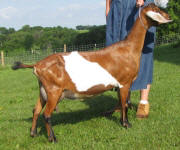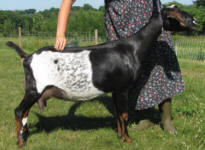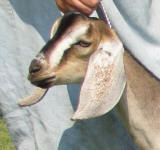 ---
Welcome to our website and our herd of wonderful Mini Nubians!
Our homestead began in 1997 with Nigerian Dwarf dairy goats and a Great Pyrenees livestock guardian dog. We started raising MiniNubian dairy goats in 1999. The appearance, personality and size of the Mini Nubians was so much preferred by our customers and ourselves that in 2004, we decided to focus our breeding on one breed and raise MiniNubians only. We are located in beautiful west-central Wisconsin.
---
What you want... we breed!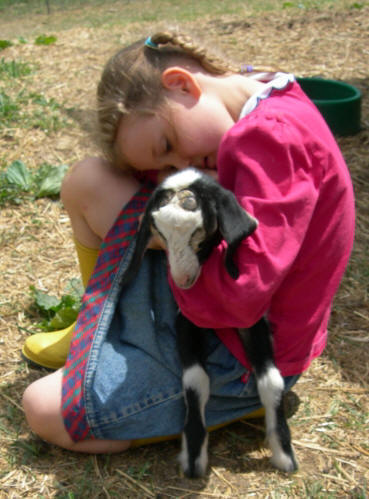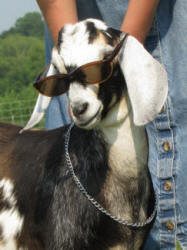 You want a miniature dairy goat that will produce plenty of rich milk while being colorful, friendly and fun. Our goal is to breed a MiniNubian that will meet your needs. We are breeding Mini Nubian dairy goats to give lots of high quality milk for your family and to have great conformation to help your herd have a productive life and win in the show ring. You also want that adorable Nubian breed character and lots of flashy colors. To top that off, our MiniNubians are bred to have wonderful, sweet personalities - our goats will love you! They are very good with children and are just the right size.
For your breeding goals, we have 1st - 6th generation MiniNubians and are experimenting with different percentages. Kids sell quickly and our deposit list fills early in the year so be sure to get on the list if you are interested in purchasing a Mini Nubian from us. We do occasionally have proven adult Miniature Dairy goats for sale.
Our Mini Nubian herd is bred from stock coming from many well known herds including MiniNubian herds: Echo Hill's, Heart's Delight, Hidden Creek's, Inavale, Blue Moon Ranch, Nubian herds: Hoanbu, Longman's Nubians, Kastdemur's, Lakeshore, Price-O-The-Field, Royal Cedars, Les Serrettes, and Nigerian herds: Rosasharn, Dill's, Goodwood, Buttin' Heads, Twin Creek's and Willow's. You can see 6 generation pedigrees on each goat by visiting their individual pages. I hope you enjoy looking through our site. Be sure to check out the "Links" page for helpful links to registries, breed clubs, Yahoo! groups and other good dairy goat websites.
We are Members of:

What Others are Saying About our Dairy Goats...

Miniature Dairy Goat Association (MDGA)
www.miniaturedairygoats.com

The Miniature Goat Registry (TMGR)
www.tmgronline.com

Our buckling arrived today. He is absolutely adorable & going to be a handsome buck we think. He is also the most friendly baby we have ever purchased. We are very pleased with him. He is everything we hoped for & more. He loves people. Thank you again for our beautiful baby boy.
-- The Dancho Family - Pennsylvania

Holly got here safe & sound early today. She is absolutely adorable. Her face looks like Nutmeg's! She is quite the character too. She bonded with me right away. I went to take a nap on the lounge chair outside & she hopped up next to me, laid down, curled up & chewed her cud while I rested. She met the dogs, cat, ducklings & the rest of the herd. She is very alert, curious & smart. Thank you!
-- Debby - New York

I want to tell you how much we love the two Mini Nubian wethers and Snowy Night. Thanks so much for selling them to me!
-- Lois - Arena, WI

Patriot is becoming a handsome Mini-Nubian buck. I can't wait to see kids from him. Thanks again for selling me him. He is such a sweetheart still. He is always the first to come over to be petted.
-- Heather - Greencastle, IN

My MiniNubian doe from Green Gables is the sweetest animal Iíve ever had.
-- Shelly - Ohio
Got Milk???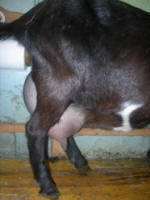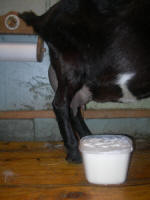 MiniNubians do!!!
Check out the Milk Testing Page for milk test results.
---
Contact Information
Please feel free to contact us if you have any questions about our goats or the MiniNubian breed. Also be sure to check out our Yahoo group where you can keep up-to-date on all that is happening here at Green Gables, ask questions about MiniNubians and goats in general and meet other Mini Nubian enthusiasts in your area.
Postal address
Eliya Elmquist
P.O. Box 331, Eleva, WI 54738
Email
Social Media
www.facebook.com/GreenGablesMiniNubians